Rainbow Songs Mike Whitla
Please select the season for which you would like to view courses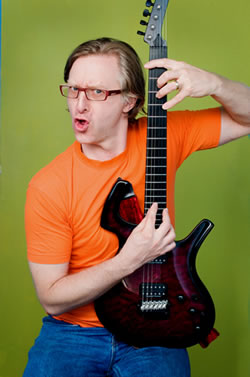 Mike Whitla is the founder & Director of Rainbow Songs, the most successful preschool family music program in Canada. Since 1999, more than thirty thousand families have participated in Rainbow Songs classes, sharing the joy of music.
Mike is also the founder of HowdyToons Productions Inc, a children's music video company. Springing from the success of Mike's standout award-winning 2005 children's album, Dinostory: The Ultimate Dinosaur Rock Opera, Howdytoons now distributes on many platforms, including Youtube, Amazon Prime Video, and Spotify. At time of writing, the Howdytoons Youtube channel (youtube.com/howdytoons) has more than 500k subscribers and has now passed 520,000,000 views.
Including Dinostory, Mike has produced 9 award-winning children's music CDs, all of which feature Rainbow Songs staff past and present, as well as talented musician friends from Canada and around the world. (Check 'em out on Spotify, Apple Music or Google Play!)
Mike co-founded the Rainbow Songs Foundation, a charity that brings the same high-quality Rainbow Songs musical programs to vulnerable families using shelters and drop-in centres throughout Toronto.
When he isn't making music, Mike is a passionate cyclist, environmentalist and the father of two boys, Jake and Kyle.