Rainbow Songs Mike Whitla
Please select the season for which you would like to view courses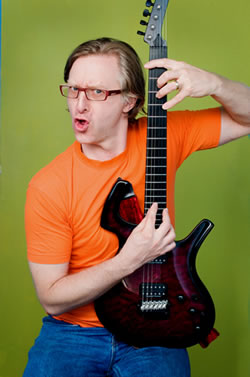 Mike Whitla is the founder & Director of Rainbow Songs, and has built the program into the most successful preschool family music program in Canada. Since 1999, twenty thousand families have participated in Rainbow Songs classes, learning songs and rhythm-making together, and sharing the joy of music.
In addition, Mike has produced 7 award-winning children's music CDs, many of which feature the accomplished musicians who are Rainbow Songs staff members. Honours for these albums include 6 Parent's Choice awards, 3 National Parenting Publication (NAPPA) awards and 4 Academic's Choice awards.
In addition, Mike won the 2006 Indie Music Award for "Favourite Children's Artist", has 3 times been a finalist in the International Songwriting Competition, and was nominated for the SiriusXM "Best Children's Entertainer".
Of Mike's 7 CDs, Dinostory: The Ultimate Rock Opera has been a particular standout. An album telling the story of a lost Triceratops trying to find out where she belongs, Dinostory garnered amazing reviews from media in Canada and the US.
Its enthusiastic reception inspired Mike to start making music videos to accompany the songs. The Dinostory music videos have proved incredibly popular, and Mike's YouTube channels -- including HowdyToons (which also has live action and animated music videos for beloved Rainbow Songs class favourites) -- are closing in on 400 million views.
Along with his wife, Lisa, Mike is a co-founder of the Rainbow Songs Foundation, a charity which brings the same high-quality Rainbow Songs musical programs to shelters throughout Toronto.
When he isn't making music, Mike is busy as a passionate cyclist, environmentalist, husband and the father of two boys, Jake and Kyle.