Rainbow Songs Joshua Engel
Please select the season for which you would like to view courses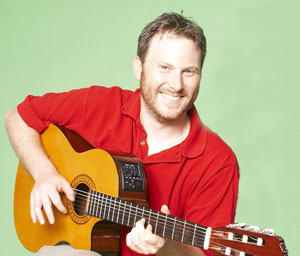 Joshua Skye Engel has been a Rainbow Songs instructor since 2005, a favourite music instructor to hundreds of children over the years. He is the voice behind Rock'n'Rainbow band member, "Blue Elvis", and has contributed to several tracks on multiple Rainbow Songs CDs.

Josh has been making music for as long as he can remember. At the age of three he began studying piano at the Royal Conservatory of Music. At 10, he sang on the CBC with John Sebastian. At 12, he picked up the guitar and has been playing ever since. He went on to earn a Bachelor of Arts, with a focus in music, from McGill University and was a six time scholarship recipient from KlezKanada, where he studied guitar and mandolin techniques. Josh has studied ORFF through the Royal Conservatory and continues to attend ECMA workshops to further and enrich his teaching.

As an accomplished producer and multi-instrumentalist, Josh has worked on a growing number of CDs and soundtracks to date. He has performed live in over fifteen different countries. He also spent several summers leading music and theatre programs at summer camp and currently runs a weekly musical workshop for people with autism through Kerry's Place. In addition to all of that, Josh has been teaching music privately to students in Toronto for over twenty years.

Josh is thrilled to be a part of the Rainbow Songs team.